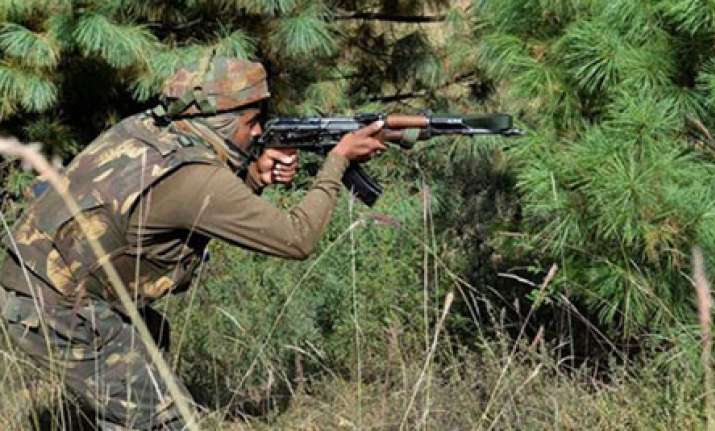 Jammu: Pakistani troops fired at patrolling army in the Kerry sector of Rajouri district in Jammu Kashmir, in which one Major and three soldiers were martyred. The spokesman said that Major Mohrarkar Praful Ambadas, Lance Naik Gurmail Singh, Lance Naik Gurmeet Singh and Soldier Pargat Singh lost their lives during the ceasefire violation. The fourth soldier had not been named till evening.
"They [four slain Indian soldiers] were grievously hurt during the firing from Pakistani troops and later succumbed to their injuries", Indian Defence Ministry spokesman N N Joshi said. There has been a spurt in ceasefire violations by Pakistani troops on LoC and International Border (IB) this year. Indian troops were retaliating effectively, the officer said.
Four soldiers - three Lance Naiks and a Major of the 120 Infantry Brigade - were killed while another one was injured.
Major Ambadas, 32, belonged to Maharashtra, Lance Naik Gurmail Singh, 34, hailed from Amritsar, Punjab and Sepoy Pargat Singh, 30, belonged to Karnal, Haryana.
Vowing to avenge the killings, the Indian troops swung into action to silence the Pakistani guns.
He said two other injured soldiers are undergoing treatment at the hospital.
Pounds of Pot Was for Christmas Presents, Elderly Couple Says
When asked about the Jirons' custody status by the Washington Post, authorities simply replied, "they're not here". The truck reeked of raw marijuana, an officer said. " They said the marijuana was for Christmas presents ", Lt.
Facebook AI recognises face, can alert you on misuse
Now, if you're in a photo and are part of the audience, Facebook will notify you, even if you aren't tagged. When photos and videos are uploaded to our systems, we compare those images to the template.
Warm weather for a few days followed by mid-week rain
A strong cold front will bring sharply colder air to the region beginning Thursday night and through the day Friday . If you are hoping for a white Christmas, it looks unlikely to happen here in Southwest Louisiana.
The violence was sparked by the killing of a popular young rebel leader by government forces in July past year.
India shares a 3,323 km long border with Pakistan, of which 221 km of the IB and 740 km of the LoC fall in Jammu and Kashmir.
Jammu and Kashmir Chief Minister Mehbooba Mufti Saturday paid rich tributes to four Army personnel, including a Major, killed in Pakistani firing along the Line of Control in Jammu and Kashmir's Rajouri district.
"The incident took place in the Topa Barat Galla area of in Keri sector".
The Deputy CM while expressing condolences with the bereaved families prayed for eternal peace to their departed souls.