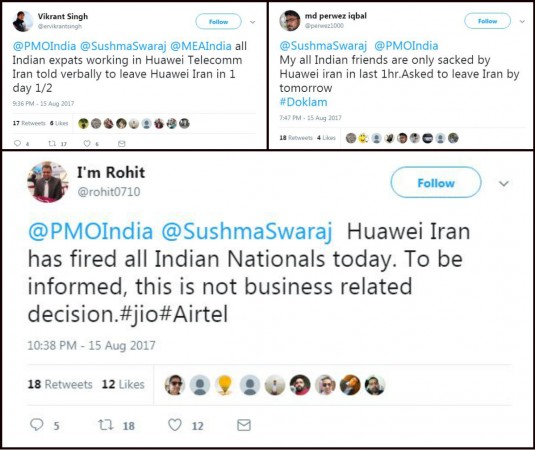 While the MEA did not comment on the authenticity of the video, it confirmed that an "incident" had taken place between troops of the India and China at Pangong lake in Ladakh sector.
Defence Expert P.K. Sehgal on Sunday said that the visuals have vindicated New Delhi's stand made by the Indian Army on Independence Day.
The confrontation itself was sparked after a Chinese PLA unit came across an Indian patrol on the northern bank of the Pangong Lake, which is controlled in parts by India (one-third) and China (two-thirds).
The Ministry of External Affairs on Friday confirmed that there was an incident between two forces on August 15.
The August 15 stone-pelting incident is a result of heightened border tensions more generally this year, since the Doklam standoff began especially, and a effect of the fact that Indian and Chinese border forces do not carry loaded weapons, which is created to prevent inadvertent escalation.
The video shows a group of around 50 people throwing stones at each other and engaging in a skirmish.
Panthers QB Cam Newton out for Saturday's game vs. Titans
When you've got a lot of guys around the ball where they're supposed to be, good things happen, and that's exactly what happened. Decker, twisted his ankle during Wednesday's practice and coach Mike Mularkey said he will not play Saturday.
Uber blows off Philippine regulators and defies ban
Uber said the suspension order will affect its 66,000 TNVS partners and their one million active users. Uber is in open conflict with regulators again - this time in the Philippines.
Mattis warns of risk of war if NKorea fires at USA soil
Remaining isolated presaged a dark future for the North, he said. If he orders them to fly, North Korea has its excuse to launch. He said: "We are prepared for many situations".
Army Chief arrived in Leh on a two-day visit to take stock of the situation in Ladakh region. The officer said Indian soldiers retaliated but neither side used guns. No weapons are used in the video, however.
Some of the Chinese soldiers carried iron rods and stones, and in the melee there were minor injuries on both sides, Reuters quoting sources in New Delhi said.
Sources earlier told India Today that the Ladakh altercation lasted for around an hour and was brought under control after a customary banner drill, following which soldiers of the two nuclear-armed neighbours retreated to the positions. "We should maintain peace and tranquility", foreign ministry spokesman Raveesh Kumar said at the weekend.
She had visited Ladakh in September 2010 to take stock of the situation after a cloudburst caused large-scale devastation.
After almost 30 minutes of facing off, the two sides retreated to their positions, he said.